Wed, Dec 21, 2022 at 12:51PM
---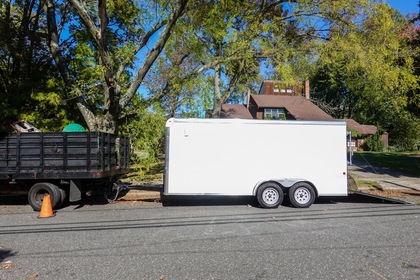 If you have moved before, you have likely used an enclosed trailer. Because these trailers offer more protection for your items than open trailers, enclosed trailers can be
highly useful to have on hand. But did you know that your small business can significantly benefit from an enclosed trailer, too?
Consider shopping for enclosed trailers in Orlando, Florida, if your small business falls into any of these categories:
Landscapers
Hauling landscaping equipment from job to job is sometimes more than the bed of a pickup truck can handle. Open trailers can work well, but the downside of open trailers in Orlando, Florida, is that all that gear will get rained on at some point.
Having an enclosed trailer keeps your equipment safe from the elements. Additionally, it's out of sight, protecting it from potential theft.
Professionals in Need of Office Space
Maybe you need a small recording studio, or just want a place to be able to craft articles or graphic design projects in peace. Enclosed trailers can be excellent mobile offices for professionals who want to be able to work from literally anywhere.
You can equip your trailer with power, lights, and climate control to make it comfortable and usable no matter what the weather is like outside.
Chefs with Food Trucks
If you are a chef interested in operating a food truck, a trailer just makes sense. Rather than needing a dedicated food truck, you can have a food trailer.
Once you prepare it and get it licensed to cook and serve food, you will have a mobile kitchen that you can tow to fairs, festivals, and other events with ease.
Contractors
Being able to take your equipment from location to location makes life much more convenient for a contractor. Are you a plumber who needs to know where the pipe fittings are in a hurry? With a trailer, you could dedicate a drawer to pipe fittings that is easily available to you.
No matter what type of contract work you perform, a trailer means you have all of your equipment with you at any job, protected from rain and direct sunlight.
Businesses Need Enclosed Trailers in Orlando, Florida
A wide range of small businesses can greatly benefit from having an enclosed trailer at the ready. Hauling cargo, storing unused material, and moving your office all become a cinch with the right trailer.
When you're ready to purchase your own enclosed trailer, make sure to have it inspected first and ensure your vehicle is rated to tow the weight. By choosing a reliable enclosed trailer, you can receive decades of service for your small business.