Tue, Feb 15, 2022 at 9:00AM
---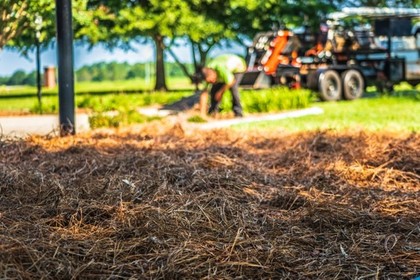 A landscaping trailer is a utility trailer that has been modified to accommodate the tools, machines, and devices often used by landscapers. These utility trailers are either open on all sides or enclosed and have a ramp at the back for easy loading of large machines, such as lawnmowers, that are used in the industry.
There are hundreds of trailer manufacturers serving the U.S., which means you have many options at your fingertips. It's a good idea to get a handle on what exactly you should be looking for and what you need to consider when buying a landscape trailer.
Closed vs. Open
Landscaping trailers are sometimes enclosed to keep everything secure and out of the elements, but open trailers are very common.
An open trailer doesn't provide the level of year-round protection that a closed trailer does, but it may be more practical for landscaping purposes. Open trailers allow easy access to everything in them from all sides, and they're more lightweight than enclosed trailers.
Some open landscaping trailers have sidewalls, which offer a little extra protection. Trailers with taller sidewalls will easily accommodate piles of leaves, mulch, and other items.
Trailer Size
You must carefully consider the dimensions of your ideal trailer. While a 20-foot landscaping trailer will give you an excellent amount of space for hauling and storing your equipment.
Consider the width, length, and the number of axles, as well as the overall trailer weight. You'll want a trailer that is small enough not to overload your vehicle but still large enough to safely carry everything you need.
Tool Racks and Lighting
Make sure your landscaping trailer will be able to accommodate all your tools of various sizes, kinds, and shapes. It might come equipped with tool racks, but you should also consider installing customized tool racks to suit your needs.
You can also add toolboxes and racks for gas cans, weed trimmers, shovels, pruners, and other hand tools to make it easy to safely store and retrieve items without having to strap everything down.
Lighting
Many people fail to consider lighting when they are searching for a landscaping trailer to buy. LED lighting for brakes and turn signals is a valuable upgrade, as LEDs are brighter and last much longer than standard bulbs. You'll also likely want lighting inside the trailer if it is an enclosed one.
Tie-Down Points
Tools and equipment that are sliding around in any trailer are inconvenient, messy, and hazardous. Regardless of whether your landscaping trailer is enclosed or open, make sure it has several tie-down points so you can easily keep your tools from flying down the road or crashing to the floor of the trailer while you're driving.
Having your trailer customized by a professional will yield big results when it comes to lighting, tool racks, sidewalls, and even tie-down points, all of which are customizable with the right trailer service company. Also, if you think you need a trailer don't worry, with our inventory getting restocked multiple times per week, you are sure you find your perfect fit!