Wed, Jan 25, 2023 at 7:30AM
---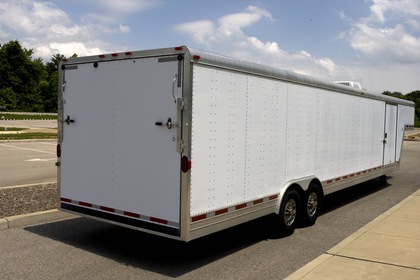 If your enclosed trailer has started to look dingy, dirty, or downright disgusting, it may be long overdue for a thorough cleaning. Taking the time to carefully clean both the interior and exterior of your enclosed trailer can make it look like it just rolled off the lot.
With that being said, if you want to sharpen up the appearance of your trailer, it's important that you take the proper approach. Here is how to tackle the messes (both inside and out) for any enclosed trailers in Orlando.
Cleaning the Outside of Enclosed Trailers in Orlando
Cleaning the outside of your enclosed trailer is a pretty straightforward process. You can clean it much like you would any other vehicle. A little soap, water, and elbow grease go a long way in getting your trailer shining again.
Still, it is important that you carefully choose the right soap, especially if your trailer is painted. Using a general soap or household cleaner can ruin the glossy appearance of a painted trailer, so you should stick with a soap that is specifically designed for washing vehicles, even if your trailer is covered in tough-to-remove debris like oil, dirt, or mud.
Once you are finished, carefully inspect the trailer for any damage or wear and tear, and if necessary, promptly schedule maintenance or repairs to get your trailer back in good working order.
Making the Inside of Your Enclosed Trailer Look Like New
While it is important to wash the outside of your enclosed trailer, you should also make it a habit to clean the interior as well. The first step is to completely empty it. From there, sweep out any loose debris. Using a leaf blower is much faster, so try that approach if you have one available.
For the most part, you shouldn't need to actually wash the inside of your trailer, but you should, of course, take the time to wipe up any spills and ensure that there are no slick spots inside the trailer. After you are done, let the trailer air out for a few hours, which will help rid it of any odors caused by spilled gasoline, oil, or other chemicals.
Cleaning Not Cutting It? Look for Trailers for Sale in Orlando, Florida
No matter how well or often you clean your enclosed trailer, it will eventually start to lose its shine. The good news is that you can always upgrade your equipment by checking out trailers for sale in Orlando, Florida (or at a retailer that's near you).
If you decide to upgrade to a brand-new trailer, make sure you talk to your salesperson about cleaning best practices. That's particularly important if you plan to buy a painted trailer, as using the wrong cleaning products can ruin its luster.
Remember, practicing good cleaning and maintenance habits are the best way to keep your trailer looking good and functioning well for years to come.